A major analysis of hundreds of species of animals has revealed the huge toll the world's booming wildlife trade is taking on the natural world. Without urgent action, the world is facing "rampant trade-induced declines" of mammals, birds and reptiles, the authors of the research said.
In places where the wildlife trade is active, species have dropped by an average of 62 per cent, according to the study. While local trade is part of the problem, demand from further afield is having the biggest effect on populations of animals, the research found, with 75 per cent of species declines involving national and international trade.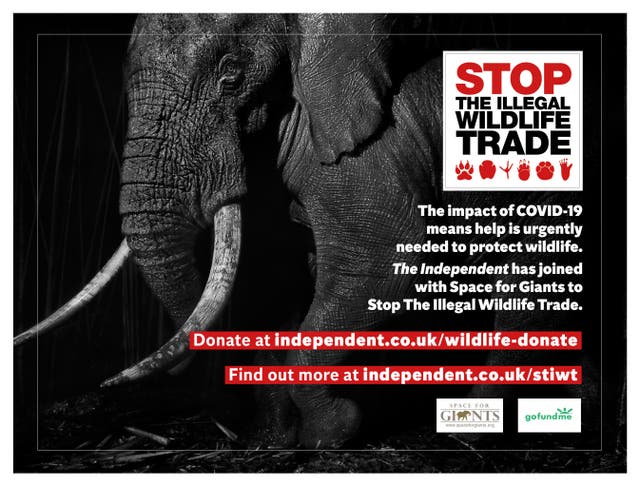 They also warned that measures designed to protect species are failing, noting significant declines "even where the harvesting for trade occurs in protected areas".
Oscar Morton, lead author of the research from the University of Sheffield, told The Independent: "These declines are worrying as they suggest a biodiversity decline driven once again by human activities."He added: "The fact that we carried out this study and read over 2,000 studies and only found 31 studies evidencing the impacts of trade is hugely concerning as this means there are massive gaps in our understanding of trade."
The wildlife trade, a global industry estimated to be worth up to $20bn a year, includes regulated, legal trade alongside poorly regulated, illegal trade. At least 100 million plants and animals are internationally trafficked each year across a vast array of species.
The effects are demonstrated by the collapse in African elephant numbers, which are estimated to have plummeted from 10 million in the early 20th century to just 415,000 now, because of demand for ivory and habitat loss.
David Edwards, professor of conservation science at the University of Sheffield, said: "Thousands of species are traded for pets, traditional medicines, and luxury foods, but how this impacts species' abundances in the wild was unknown.
"Our research draws together high-quality field studies to reveal a shocking reduction in most traded species, driving many locally extinct. But the research also noted how the economic role the wildlife trade plays can make it difficult to stop, and in some cases, could leave animals even more exposed to risks.
"Local-scale trade for both food and income security supports an estimated 150 million rural households involved with the extraction or commercialisation of bushmeat," the authors said.
"Conversely, the national to international trade in pets, medicines and luxury meats often involves a small number of highly specialised parties extracting and trafficking species of high commercial value. At all scales, trade has the potential to support livelihoods and even protect species from extinction, with sustainable trade potentially as lucrative as unsustainable methods.
"But at its worst, intensive extraction and trade is a prominent driver of extinction risk and a global threat to species." Mr Morton said: "We're not saying that trade is bad, millions of people around the world rely on it for income subsistence or access to protein. We're highlighting that it has the potential to drive declines in species.
"More needs to be done to share local trapping practices that are sustainable to ensure trade can be locally sustainable for those that rely on it. For larger scale trade at international levels we need more rigorous assessment criteria to be certain whether extracting and trading species out of their habitat can be sustainable."
The research team examined records of traded wildlife, including both legal and illegal trade, comparing them with sites where species were not traded. "We uncovered several alarming patterns in the geographic coverage and taxonomic representation of studies using robust methods to characterise abundance responses to trade," the researchers said.
The experts said they "found population declines tracked species threat status", meaning the more at risk animals were according to the IUCN red list, the more pronounced the fall in numbers. "Improved management, tackling both unsustainable demand and trade reporting, must be a conservation priority to prevent rampant trade-induced declines," they advised.
The work, published in the journal Nature, also revealed the breadth of the threat wildlife trade poses to biodiversity, one that the researchers said requires closer attention. While other factors such as habitat loss, hunting and the climate crisis are well understood threats, the obscure and imprecise knowledge of the effects of legal and illegal wildlife trade requires much closer further research.
"Our study highlights an important deficit in the field of conservation biology," the authors said.
"Although the scale of the wildlife trade is immense and our evidence-based analyses show striking declines in abundances, our understanding of species-level impacts lags behind our knowledge of other key threats to biodiversity, including deforestation, forest degradation and overhunting. This underlines an urgent need for a diversification of trade studies across taxa, biogeographic realms and purposes."
This article was first published by The Independent on 17 February 2021. Lead Image: Burning seized elephant tusks, ivory figurines and rhinoceros horns at the Nairobi National Park, Kenya, 2016 (AFP/Getty).
---
What you can do
Support 'Fighting for Wildlife' by donating as little as $1 – It only takes a minute. Thank you.
Fighting for Wildlife supports approved wildlife conservation organizations, which spend at least 80 percent of the money they raise on actual fieldwork, rather than administration and fundraising. When making a donation you can designate for which type of initiative it should be used – wildlife, oceans, forests or climate.