More than 83,000 hunting birds are killed by windfarms each year but no wind energy company has been fined. The Obama administration has never fined or prosecuted a windfarm for killing eagles and other protected bird species, shielding the industry from liability and helping keep the scope of the deaths secret, an Associated Press investigation has found.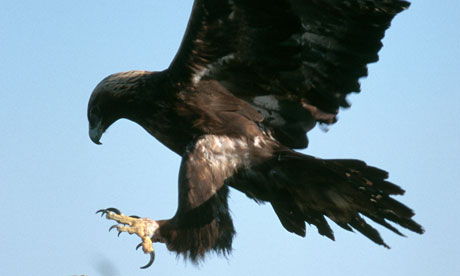 More than 573,000 birds are killed by the country's windfarms each year, including 83,000 hunting birds such as hawks, falcons and eagles, according to an estimate published in March in the peer-reviewed Wildlife Society Bulletin.
Each death is federal crime, a charge that the Obama administration has used to prosecute oil companies when birds drown in their waste pits, and power companies when birds are electrocuted by their power lines. No wind energy company has been prosecuted, even those that repeatedly flout the law.
Wind power, a pollution-free energy intended to ease global warming, is a cornerstone of President Barack Obama's energy plan. His administration has championed a $1bn-a-year tax break to the industry that has nearly doubled the amount of wind power in his first term.
"It is the rationale that we have to get off of carbon, we have to get off of fossil fuels, that allows them to justify this," said Tom Dougherty, a long-time environmentalist who worked for nearly 20 years for the National Wildlife Federation in the West, until his retirement in 2008. "But at what cost? In this case, the cost is too high."
Documents and emails obtained by The Associated Press offer glimpses of the problem: 14 deaths at seven facilities in California, five each in New Mexico and Oregon, one in Washington state and another in Nevada, where an eagle was found with a hole in its neck, exposing the bone.
One of the deadliest places in the country for golden eagles is Wyoming, where federal officials said windfarms had killed more than four dozen golden eagles since 2009, predominantly in the southeastern part of the state. The officials spoke on condition of anonymity because they were not authorised to disclose the figures. Getting precise figures is impossible because many companies aren't required to disclose how many birds they kill. And when they do, experts say, the data can be unreliable.
When companies voluntarily report deaths, the Obama administration in many cases refuses to make the information public, saying it belongs to the energy companies or that revealing it would expose trade secrets or implicate ongoing enforcement investigations.
Nearly all the birds being killed are protected under federal environmental laws, which prosecutors have used to generate tens of millions of dollars in fines and settlements from businesses, including oil and gas companies, over the past five years.
"What it boils down to is this: If you electrocute an eagle, that is bad, but if you chop it to pieces, that is OK," said Tim Eicher, a former US Fish and Wildlife Service enforcement agent.
The Fish and Wildlife Service says it is investigating 18 bird-death cases involving wind-power facilities and seven have been referred to the Justice Department. A spokesman for the Justice Department declined to discuss the status of those cases.
In its defence, the wind-energy industry points out that more eagles are killed each year by cars, electrocutions and poisoning than by turbines. Dan Ashe, the Fish and Wildlife Service's director, said that his agency always has made clear to wind companies that if they kill birds they would still be liable.
"We are not allowing them to do it. They do it," he said of the bird deaths. "And we will successfully prosecute wind companies if they are in significant noncompliance."
Windfarms are clusters of turbines as tall as 30-story buildings, with spinning rotors the size of jetliners.
Flying eagles behave like drivers texting on their cell phones – they don't look up. As they scan for food, they don't notice the industrial turbine blades until it's too late.
Former interior secretary Ken Salazar, in an interview with the AP before his departure, denied any preferential treatment for wind. Interior Department officials said that criminal prosecution, regardless of the industry, is always a "last resort".
"There's still additional work to be done with eagles and other avian species, but we are working on it very hard," Salazar said. "We will get to the right balance."
Meanwhile, the Obama administration has proposed a rule that would give wind-energy companies potentially decades of shelter from prosecution for killing eagles. The regulation is currently under review at the White House.
The proposal, made at the urging of the wind-energy industry, would allow companies to apply for 30-year permits to kill a set number of bald or golden eagles. Previously, companies were only eligible for five-year permits.
"It's basically guaranteeing a black box for 30 years, and they're saying 'trust us for oversight'. This is not the path forward," said Katie Umekubo, a renewable energy attorney with the Natural Resources Defence Council, who argued in private meetings with the industry and government leaders that the 30-year permit needed an in-depth environmental review.
But the eagle rule is not the first time the administration has made concessions for the wind-energy industry.
Last year, over objections from some of its own wildlife investigators and biologists, the Interior Department updated its guidelines and provided more cover for wind companies that violate the law.
Under both the Migratory Bird Treaty Act and the Bald and Golden Eagle Protection Act, the death of a single bird without a permit is illegal.
But under the Obama administration's new guidelines, wind-energy companies don't face additional scrutiny until they have a "significant adverse impact" on wildlife or habitat.
That rare exception for one industry substantially weakened the government's ability to enforce the law and ignited controversy inside the Interior Department.
"US Fish and Wildlife Service does not do this for the electric utility industry or other industries," Kevin Kritz, a government wildlife biologist in the Rocky Mountain region wrote in internal agency comments in September 2011. "Other industries will want to be judged on a similar standard."
The Obama administration, however, repeatedly overruled its own experts. In the end, the wind energy industry, which was part of the committee that drafted and edited the guidelines, got almost everything it wanted.
"Clearly, there was a bias to wind energy in their favor because they are a renewable source of energy, and justifiably so," said Rob Manes, who runs the Kansas office for The Nature Conservancy and who served on the committee. "We need renewable energy in this country."
This article was published by Guardian UK and re-posted on Focusing on Wildlife.