A rescued orangutan whose sight was restored after a ground-breaking operation has been released into the wild with her twin offspring in an Indonesia forest.
The formerly blind Gober gave birth to twins after mating with a blind male in captivity at a rescue centre near Medan in North Sumatra. Twins are a rarity for orangutans and unheard-of from two blind parents .
This week the mother and four year-old twins, a male and female, were released into Jantho forest in Aceh, one of the regions hit by the 2004 tsunami.
But the release was marred by Gober abandoning her male infant, who conservationists said "spent his first night in the forest alone and afraid, cold and wet".
Despite efforts by the Sumatran Orangutan Conservation Programme (SOCP) to help him adapt to the wild, they eventually had to entice him back into a cage and take him back to the rescue centre.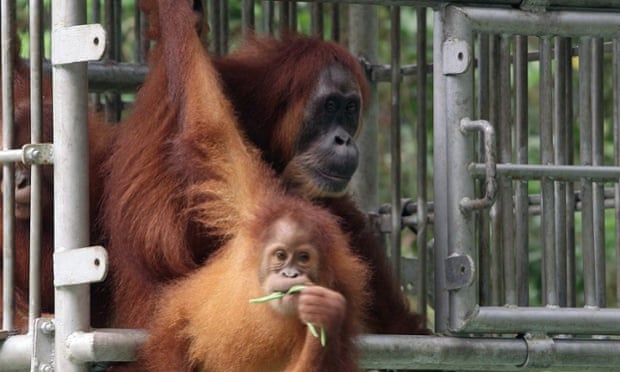 Dr Ian Singleton, one of the leaders of the project, said: "The last couple of days have been an emotional roller coaster ride, for all of us but especially for Ganteng [the male infant], and presumably for Gober and Ginting [the female infant] too. No one believed she would leave one of her twins behind, at least not so soon after release. We're all a bit stunned at just how quickly it happened."
Orangutans in Indonesia are under pressure from a number of threats, primarily the clearing of their jungle habitats to create new palm oil plantations and farmland. Deforestation rates in Indonesia have over-taken Brazil's, and a study published in December showed how much logging in the country is taking place outside of officially designated areas.
Gober had been found blind in a forest in 2008, and was moved to SOCP's rescue centre to avoid the likelihood of her being killed by farmers whose crops she was raiding, although it is illegal to kill or capture an orangutan in Indonesia.
In a bid to improve her welfare in captivity, she was introduced to a male, Leuser, who was also blind after having been shot 62 times with an air rifle. She gave birth to twins in 2011 before receiving surgery in 2012 to remove her cataracts, restoring her sight.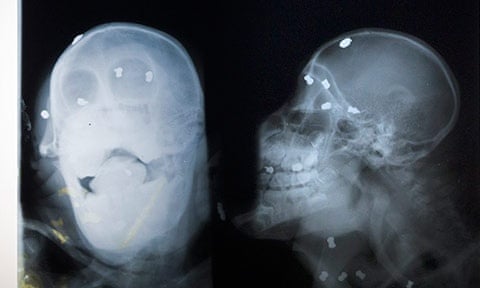 However, Gober was not thriving in captivity so the conservationists developed a plan to release her.
"Gober had never liked people, not surprising really knowing her history, and despite doing a great job rearing her infants she has never really thrived in captivity," Singleton wrote on his blog. "Her bodyweight has always tended to be rather low, probably at least partly reflecting her age, and she has always been afraid and stressed by people near her cage, especially when she could hear them but not see them."
The mother and twins were transported by crates to cages at the edge of the forest in December 2014, where they were introduced to local forest foods in order to acclimatise, before the partially successful release on 5 January.
This article was first published by The Guardian on 12 Jan 2015.