A gamekeeper who trapped and killed birds of prey has been jailed for four months.
George Mutch, 48, was sentenced at Aberdeen Sheriff Court after being convicted of laying illegal traps and killing a goshawk by hitting it with a stick.
It is the first custodial sentence for the crime of persecuting raptors, or birds of prey, in Scotland.
Mutch was caught following video monitoring by RSPB officials on the Kildrummy estate near Alford in Aberdeenshire in August 2012.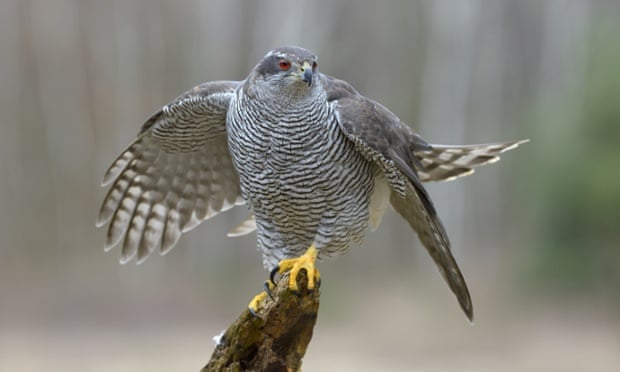 The footage showed that a jay had been used as a lure in a cage-style trap which had caught a rare goshawk.
Mutch was seen killing the distinctive bird by repeatedly striking it with a stick, the court head.
A second goshawk and a buzzard were also caught in a trap and the gamekeeper was recorded placing them in a sack and carrying them off.
WARNING: This video shows graphic footage of George Mutch killing a goshawk with a stick.
Mutch was convicted of four charges under the Wildlife and Countryside Act on December 11.
Sara Shaw, procurator fiscal for wildlife and the environment, said: "Birds of prey are given strict protection by our law.
"Goshawks, in particular, are rare birds. The court heard evidence in this case that there are only about 150 nesting pairs in Scotland.
"It is highly important to preserve Scotland's natural heritage, including the wildlife that forms part of it. Our environmental laws exist to provide this protection.
"This case involved serious contraventions of those laws. The conviction of Mr Mutch and the severity of the sentence given by the court highlights that message."
Duncan Orr Ewing, head of species and land management at RSPB Scotland, said: "This sentence is an historic, landmark result.
"We would like to thank the Crown Office and Police Scotland for helping to bring this case to a successful conviction, as well as the exemplary work of the RSPB Scotland investigations team.
"This penalty should be a turning point, sending a clear message to those determined to flout our laws that wildlife crime will not be tolerated but instead will be treated with the seriousness that it deserves. Wildlife criminals must expect no sympathy from now on."
Superintendent George MacDonald from Police Scotland said: "Today's sentence highlights the ultimate consequences of Mutch's deplorable conduct.
"I do not believe his actions and behaviour reflect the vast majority involved in the various forms of countryside management, most of whom understand the clear lines that should not be crossed in terms of criminal persecution of wildlife.
"Wildlife crime is a priority within a number of communities across Aberdeenshire and Moray. It is a matter we take very seriously and through highly trained and skilled staff, we will always endeavour to piece together what at times can be complex and challenging enquiries.
"We will continue to use advanced investigative and scientific techniques, the support of our local communities and partners to ensure that action is taken against the small minority who persist in such awful actions."
This article was first published by The Guardian on 13 Jan 2015.