This week an extraordinary animal paid a visit to our shores. The elegant and lightning-fast white-throated needletail breeds mostly in China and migrates to Australia, so it was unusual sight dancing around the Isle of Harris in Scotland. The spectacle attracted birders from across the country and created a flurry of activity online as the lucky few shared their extraordinary images.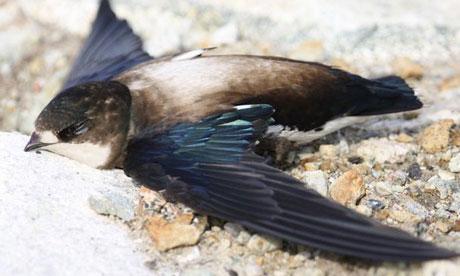 Sadly, the poor bird met an untimely end. A long way from home, presumably disoriented and exhausted from its journey that had brought it to the other side of the world from its kin, it flew into a small community wind turbine and died immediately.
Predictably, some people, who have shown little interest in bird conservation before, have sought to martyr this poor bird for their anti-windfarm cause. This is as offensive as it is irrational.
The fact is that the infrastructure that supports the kind of lives we have become accustomed to kills wildlife. Since 1980 we have lost 300 million birds from Europe's farmland, victims of ever more intensive farming. Barn owls, suffering from a lack of suitable hunting grounds, can often be seen hunting alongside major roads; as a result, about 30% of the species' deaths are attributed to collisions with vehicles.
Energy infrastructure in particular is a killer. One study compared the fatalities as a result of wind power with nuclear and fossil fuels. It looked at deaths across the full lifecycle, including extraction of raw materials and the impacts of any pollution it causes, and found that for every gigawatt-hour of electricity generated by wind power there are about 0.3 fatalities. For nuclear it was 0.4 and for fossil fuels it was 5.2 – 17 times greater than wind.
We don't accept these deaths, however. We work to keep impacts to a minimum. In the case of windpower, for example, casualty rates range from zero to 60 per turbine per year. Our staff work tirelessly across the country to ensure windfarms are built in the right place and designed appropriately, keeping fatality rates to the bottom of that range. Where a proposal fails to address our concerns, we will, however, object and do what we can to prevent the development from going ahead.
We need wind power to work, alongside everything else that will cut our climate-changing emissions. The death of any bird is tragic, but when it comes to climate change we are talking about extinctions, here in the UK and globally. One synthesis study in the journal Nature estimates that 15-37 per cent of species would be 'committed to extinction' by 2050 under a mid-range global warming scenario.
So, if you're mourning for the needletail that died this week, don't blindly lash out at windpower. Do something about it. Insulate your home, install some solar panels, drive less, buy wildlife-friendly food – because every single act we take to reduce our footprints will save lives.
This article was written by Harry Huyton, the RSPB's head of climate change policy and campaigns, for the Guardian UK.