Albany, NY–An extensive study of New York's Adirondack loon population has revealed that mercury contamination can lead to population declines of the iconic bird. The research effort was a joint project between the New York State Energy Research and Development Authority (NYSERDA), the Biodiversity Research Institute (BRI) and the Wildlife Conservation Society (WCS).
For nearly 10 years, researchers from these organizations followed mercury contamination throughout the aquatic food chain, from zooplankton to the Common Loon, in Cranberry and Lows lakes as well as in other bodies of water. They found that loons with elevated mercury levels produced significantly fewer chicks than those with low mercury levels, particularly those breeding on the more acidic lakes that are common in the Adirondack Park. Go here to read the full report.
Common Loons are widely-recognized symbols of northern wilderness and indicators of aquatic health. To understand their popularity with the public, all you need to do is here their "wail call."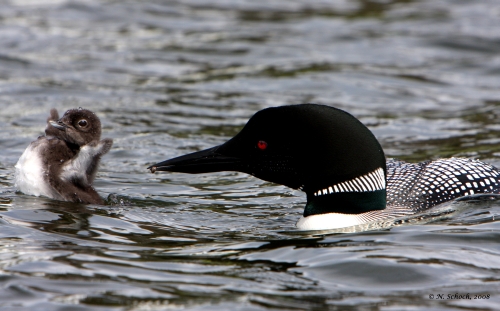 Or one of their other endearing calls of the wild.
You can listen to a recent report from NPR as this group goes out to band these 12 to 15 pound birds.
Larry Jordan is an avid birder and amateur photographer living on the Pacific Flyway near the Central Valley of Northern California. He is a board member of his local Audubon Society and is a bird and wildlife conservationist. Larry contributes to several wildlife conservation organizations and is a BirdLife International "Species Champion." He is also Habitat Manager for the Burrowing Owl Conservation Network, an organization dedicated to the protection and restoration of the Western Burrowing Owl population in the United States. Larry has been blogging about birds since September of 2007 at TheBirdersReport.com