A little-known group of amphibians — the Southeast Asian newts — are in high demand as pets, a new study has found. Large numbers of these semi-aquatic salamanders are being collected from the wild and sold in the United States and the European Union, researchers say.
To understand the scale of trade in these animals, Jodi Rowley of the Australian Museum Research Institute and her colleagues scanned through shipment and import records, and found that more than 7,500 Southeast Asian newts were imported into the U.S. — usually via Hong Kong — between 2005 and 2014.
Most of these newts were  caught from the wild, the team notes in study published in Biological Conservation.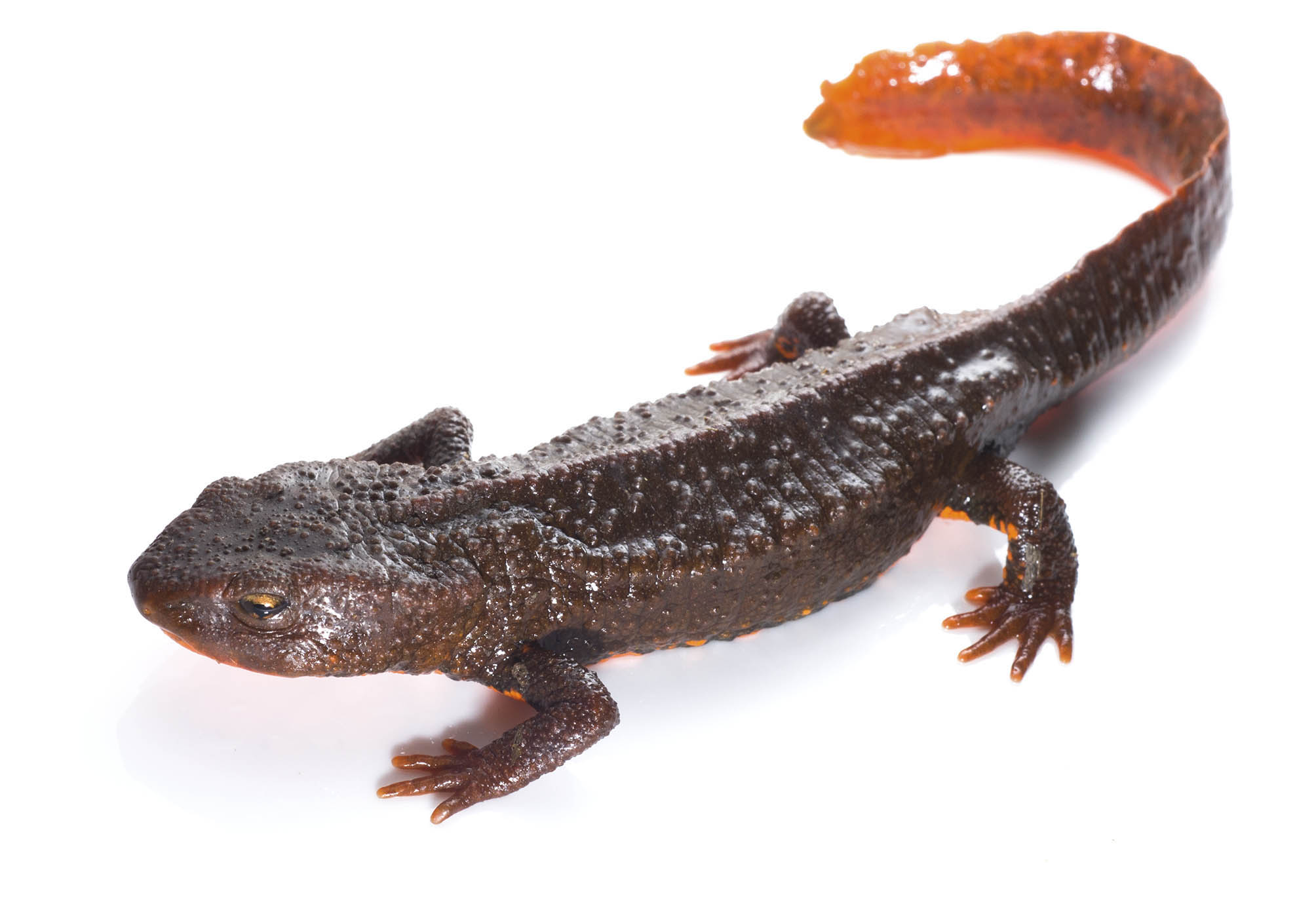 According to official records, all newts imported into the U.S. during this period belonged to four species — the Laos warty newt (Laotriton laoensis), Tam Daonewt (Paramesotriton deloustali), the emperor newt (Tylototriton shanjing) and the Himalayan newt (T. verrucosus). The Laos warty newt is currently listed as Endangered in the IUCN Red List.
The researchers found that imports into the U.S. had been considerably high in 2005, 2007 and 2011 with more than half of the individuals—about 4,240—being imported in 2007 alone. Records also showed that about 720 Southeast Asian newts had been imported live into the European Union between 2011 and 2013.
However, the team found no clear trend of an increasing demand for pet newts. This is due to a lack of records, Rowley told Mongabay.
"We were most surprised by how little information there was on the trade — we could only get a glimpse of how many animals were being exported from the wild, from what species," Rowley said.
The lack of information, the authors write, is because the trade in Southeast Asian newts is largely unregulated and unrecorded. However, local reports and internet searches indicate that Southeast Asian newts are being harvested in far greater numbers than what trade statistics suggest, they add.
In Laos, for example, local residents reported selling hundreds of endemic Lao newts to visiting European, Chinese or Japanese collectors for about $0.60 to $3.50. Similarly, internet searches revealed advertisements of newts for sale that didn't show up in official records, suggesting that official records only partially reveal the scale of the trade.
For example, the team found listings of the black-knobby newt in the U.S., but saw no official records of its import into the U.S. through the end of 2014. Similarly, the Tiannan crocodile newt was advertised for sale online in Italy, but there were no official records of its import into the EU.
While online sale of newts seems to be highest in the U.S. and U.K., the team found listings of Southeast Asian newts for sale in several other countries including Austria, Germany, Hong Kong, Italy, Japan, Malaysia, the Netherlands, Poland, Spain, and Vietnam. However, some of these countries that do trade in newts online — such as Japan —do not have any official data available on the import or export of newts, the authors write.
"The lack of data on the nature and scale of the trade in Southeast Asian newts is largely because it's not a requirement of import that every country records all the wildlife that is imported," Rowley and co-author Timothy Cutajar write in a blog post. "So many don't, making it impossible to monitor and accurately assess the threat of the trade."
Habitat loss is the biggest threat to Southeast Asian newts, Rowley said. But over-collection of news from the wild for international trade is also emerging as a major threat to the newts, she added.
To help monitor the trade in newts more effectively, the authors recommend listing all Southeast Asian newts in the Convention on International Trade in Endangered Species of Wild Fauna and Flora (CITES) so that "their trade can be monitored, and the data can be used to inform conservation decisions and safeguard these species from over-harvesting."
"Without this measure, we may push some of these amazing amphibians further along the path towards extinction," Rowley said.
Citation:
Rowley JJL, et al (2016) – Estimating the global trade in Southeast Asian newts. Biological Conservation. doi:10.1016/j.biocon.2016.05.001
This article was first published by Mongabay.com on 26 May 2016.
---
We invite you to share your opinion whether Southeast Asian newts should be protected under CITES? Please vote and leave your comments at the bottom of this page:
Loading ...
Thank you for voting.