It is the idyllic nature reserve where walkers roam among roe deer and red squirrel while star-gazers enjoy the biggest expanse of dark sky in the whole of Europe. But there's a blot on the horizon over Kielder Forest, in Northumberland, thanks to highly contentious plans to reintroduce the Eurasian lynx.
The move has caused a bitter divide in the picturesque hills bordering Scotland. Campaigners say the wild mammal, which was last seen across Britain in 700AD, would reinvigorate the biggest forested area in Britain and control its sizeable herbivore population.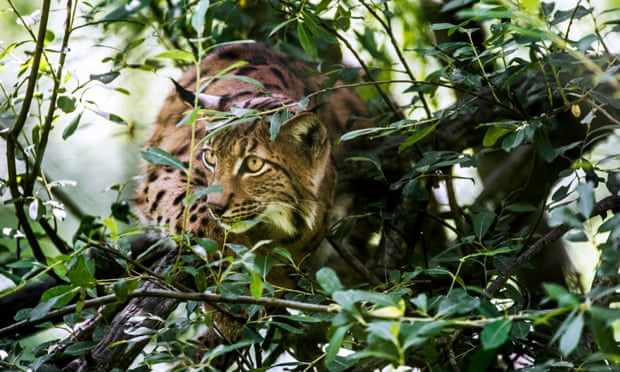 The idea has, however, caused a deep split in the rural community. There are fears among farmers that the six lynxes, which will be imported from Sweden, will kill their sheep and attack deer.
An application is due to be submitted to Natural England and Scottish Natural Heritage in a matter of weeks. If approved, the Lynx UK trust, the charity behind the proposals, hope that the animals could be introduced into the wild as early as next year.
The local MP, Guy Opperman, is also locked in a heated dispute with the charity, which he accused of behaving in a "confrontational and high-handed" way.
"The way in which this organisation have conducted their 'consultation' has been an object lesson in how not to consult and how to wind up local communities," Opperman said on Friday.
Opperman, the Tory MP for Hexham, said he surveyed the 400 closest houses to where the lynxes would be reintroduced and that 90% of occupants were opposed to the proposal. "There's no doubt that my farmers, from the National Farmers Union to local representatives to the individual farmers, are robustly against this plan," he added.
Lynx UK Trust, on the other hand, insist that 90% of the businesses and residents they have spoken to are in favour of the wild mammals being reintroduced. The issue has become so divisive that some locals told Guardian they did not want to publicly back the plans because their friends or family in the farming industry were so vehemently opposed.
"Anything that increases tourism into the area has to be good. The area is struggling at the moment, we're still coming out of the 2008 recession, and with Brexit and Trump who knows what's going on in the world," said Terry Gregg, the owner of Twenty Seven bed and breakfast in Kielder.
"We don't want any damage to farming because farmers are struggling and we don't know where they're going to stand when we come out of Europe."
Gregg said he was "originally really for it" but that his enthusiasm had cooled after attending local meetings and researching about the possible implications of the lynx. It was crucial, he said, that farmers be compensated for any loss of stock if the animals were introduced.
"Lots of people don't want to go against friends and family who are in farming and therefore don't want to say the truth," he said. "There's a lot of misinformation out there and therefore it's difficult for anyone to make an informed decision."
Lynx UK Trust has held a number of public meetings with residents in an attempt to answer concerns about the plans. Locals said that one such meeting, in August last year, quickly descended into an unedifying slanging match between Lynx UK and a representative from the National Sheep Association.
Some in the village are having fun, however. Fay Hartland, the headteacher of Kielder primary school, said her pupils were "very excited" about wild cats roaming secretly in the forest.
The schoolchildren recently played a hi-tech game of hide-and-seek in the forest, using anaerial to track down a life-sized cardboard cut out of a lynx wearing an electronic collar.
Hartland said Lynx UK gave a "very balanced" presentation to her pupils on the medium-sized animals. "I think it was very valuable because maybe in some situations the children aren't getting the actual facts because of the emotional aspect of it. What the children may be hearing might not be the facts," she said.
"I think some people are frightened to say what they think because there are some local people that are quite vocal."
The Eurasian lynx, which were hunted for their highly prized pelts, have been successfully reintroduced in northern Germany, where 14 of the cats introduced in 2000 have grown to a population of up to 100.
Their preferred diet of roe deer makes them popular with the rewilding movement, which argues for the reintroduction of apex predators in order to control herbivore populations, promote forest growth and reinvigorate ecosystems.
Dr Ian Convery, professor of Environment and Society at the University of Cumbria, argues that the five-year pilot scheme will provide a much-needed boost to the countryside and the ecosystem.
Convery, who also works with the Lynx UK Trust, claims that bringing the lynx back will allow nature in the area to flourish. He says the animal offers little threat to sheep and none to humans, but preys on roe deer, a species which holds back the natural regeneration of trees through intensive browsing.
He said: "In the UK we have lost significantly more nature over the long term than the global average and we are amongst the most nature-depleted countries in the world.
"There are three main benefits to re-introducing lynx into the wild. They are restoring ecosystems, control of deer numbers, and providing economic benefits with the increase of tourism."
The trust claims that reintroducing an apex predator like the lynx would help to restore ecosystem balance with increased deer control which would lead to woodland regeneration and greater biodiversity.
Convery gives the example of wolves being reintroduced into Yellowstone National Park in the United States. He says that elk and deer numbers were reduced which, in turn, led to greater biodiversity with tree species thriving and songbirds returning to the park.
He added: "We estimate that this project could bring in up to £12m in terms of tourism. A similar scheme in Germany, in the Harz mountains, has been incredibly successful in terms of wildlife tourism because people actively seek out charismatic species."
But Phil Stocker, chief executive of the National Sheep Association (NSA), argues that the consequences of reintroducing lynx would be catastrophic for farmers.
He claims that the release of lynx into the countryside would result in sheep being killed, maimed and stressed.
He said: "It would have a major effect on not only commercial farming, but also the wider environment.
"Lynx are opportunistic predators and if they need a meal they will find the nearest and easiest prey and usually that will be sheep.
"Attacks by a dog cause a sheep to miscarry their unborn lambs, to be separated from baby lambs once they are born, and to fail to thrive due to high levels of stress. It would be the same with the lynx."
"Farmers are already struggling. Conditions are tough in the sheep sector, returns are low and for some farmers the release of the lynx would be the final straw. We would lose much, much more than just sheep if these businesses cease to operate," added Stocker.
This article was first published by The Guardian on 03 Feb 2017.
---
We invite you to share your opinion whether the Eurasian Lynx should be rewilded? Please vote and leave your comments at the bottom of this page.
Loading ...
Thank you for voting.
---
Editorial Comment: The purpose of this poll is to highlight important wildlife conservation issues and to encourage discussion on ways to stop wildlife crime. By leaving a comment and sharing this post you can help to raise awareness. Thank you for your support.