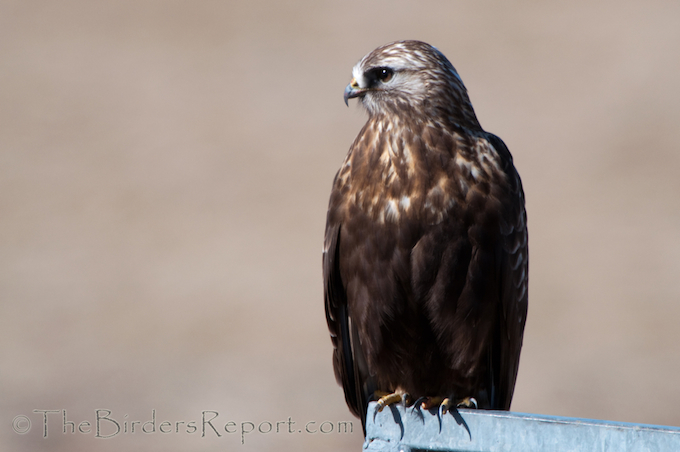 Rough-legged Hawk (Buteo lagopus) photos by Larry Jordan – the Rough-legged Hawk is a true arctic species having an extensive panboreal breeding range, with populations in taiga and tundra regions of both the Old World and the New World1. Green is their summer range, blue is winter.
In North America this raptor breeds in arctic and sub-arctic Canada and Alaska. They nest on cliffs and feed primarily on lemmings and voles. Fortunately for us, the entireRough-legged Hawk populationmigratesto open country in southern Canada and the United States for the winter.
Rough-legged Hawks exhibit a high degree of plumage variation in both light and dark morphs. This bird looks to be a dark morph juvenile to me. It has a light head and an all dark belly with lighter brown streaks on the breast. If you stop the following video at 21 seconds, you will see that it also has rufous underwing coverts with the universal dark carpal patches that show in both morphs.
I was having a very nice time watching and filming this bird at close range before a pick up drove by at highspeedflushing it from its perch. At the end of the video, around a minute and 17 seconds, you can also see that it's tail shows dark above with pale gray banding, not the broad white base that is so obvious on the light morph.
The dark morph bird above was seen at Lower Klamath National Wildlife Refuge last week. A light morph was also spotted a short distance away as it flew into the shallowfloodedfield across the road.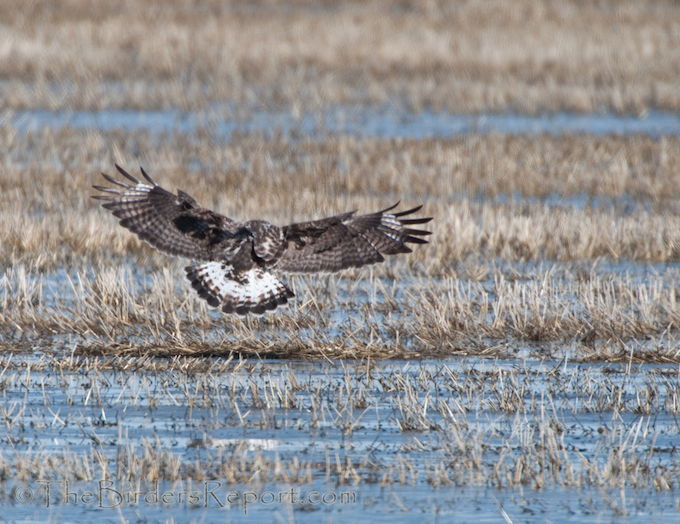 You can see from this spread wing shot that this is a light morphRough-legged Hawk. Probably a male due to the multiple dark terminal tail bands. He appeared to be hunting in the shallows but after a few minutes, took flight. Rough-legged Hawks often hunt from perches but they also hover or "kite," descending vertically to pounce on prey. This is a light morph bird who is joined by another toward the end of the video.
Back inDecember we saw quite a few light morph birds on aChristmasBird Count in Fall River Mills, California. This is my best photo from that trip.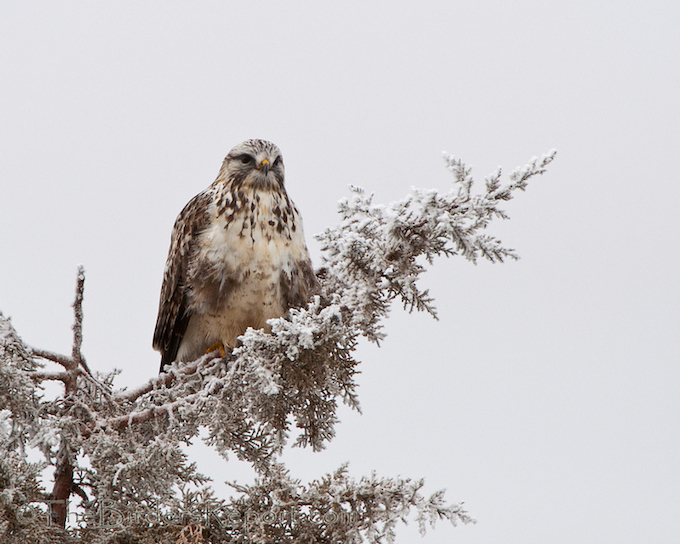 It looks quite a bit different than the dark morphRough-legged Hawk doesn't it?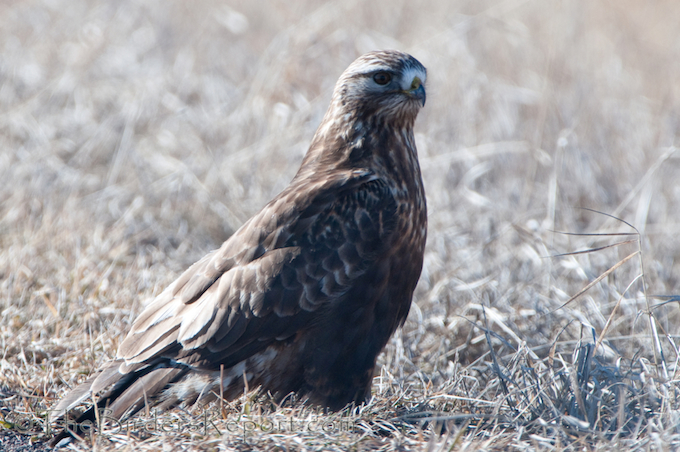 A few things that they do all have in common though are a small bill, feathered legs and the hover behavior! If you want to see more photos of cool birds, check out Wild Bird Wednesday and The Bird D'pot
If you want to be part of a conservation movement to create more money for our National Wildlife Refuges, come on over to our Wildlife Conservation Stamp website! We want to hear about National Wildlife Refuges you visit!
Larry Jordan is an avid birder and amateur photographer living on the Pacific Flyway near the Central Valley of Northern California. He is a board member of his local Audubon Society and is a bird and wildlife conservationist. Larry contributes to several wildlife conservation organizations and is a BirdLife International "Species Champion." He is also Habitat Manager for the Burrowing Owl Conservation Network, an organization dedicated to the protection and restoration of the Western Burrowing Owl population in the United States. Larry has been blogging about birds since September of 2007 at TheBirdersReport.com