I don't know what it is about the cuckoo that makes my heart sing, but I could happily sit all day listening to its call. Something about it taps into a sort of inner contentedness – I wonder if we humans have evolved to associate the call of the cuckoo with the beginning of spring and therefore the end of winter suffering, of new hope, food, sunshine and abundance. That the cuckoo really does serve as a clock; telling us each spring that everything is going to be ok.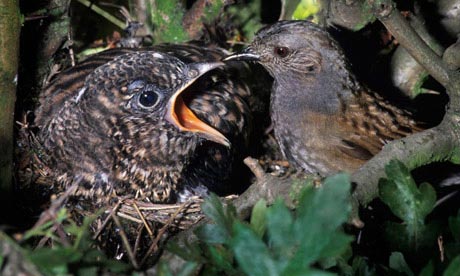 It's just the male that has the familiar "cuckoo" call; the female makes more of a bubbling, laughing sound. I've not heard one this year. Living in London I have to travel to listen to cuckoos, and it was too late when I finally got around to visiting my friend in Sussex last week. She had heard a few recently but all is quiet now; they've likely flown south already.
It's not a garden bird, of course, but the dunnock and robin – two of the species parasitised by cuckoos – do frequent gardens, as do the caterpillars they eat. Cuckoos are therefore an example of how our gardens are part of the wider ecosystem – what we do within the confines of our fences may impact on species that don't even use that space. If we made better garden habitats for caterpillars, robins and dunnocks, could we help the cuckoo?
It's certainly worth a try, because cuckoo numbers have dropped by around half in the last 25 years. It's one of the UK's fasted declining migrants and is now red-listed. But no one really knows why. It travels from Africa to the UK each year to lay eggs in the nests of other birds, and then it flies back. Until two years ago our best knowledge of their migration was when a bird ringed in Britain in 1930 turned up dead in Cameroon two years later. But, thanks to the BTO, we now know a bit more.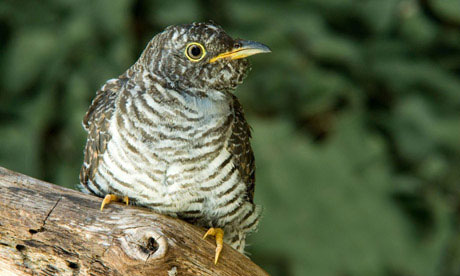 Initially five birds were caught and fitted with GPS monitoring systems, as part of the BTO's cuckoo tagging project. I followed their journeys online as Clement, Lyster, Martin, Kasper and Chris made their way south. Most went via Italy but some travelled through France and Spain, adding about 3000 miles to their journey. Not all of them made it back. Like the ringed bird in the 1930s, Clement died in the Cameroon. Could this indicate a problem there?
This year more cuckoos have been tagged, in the hope of unravelling some more of the mystery of their decline. I had the privilege of naming one. Derek was caught in Norfolk, and is one of just six of the 18 that remain in the UK. When will he embark on his journey and which route will he take? I hope he's one of the lucky ones that makes it back.
I'll monitor his progress online this summer, but I'll also be adding to my stock of caterpillar foodplants for moths. There's not a hope of getting a cuckoo in my neighbourhood, but if every gardener grows an extra moth plant or two then we can all do our bit for the cuckoo. Hedgehogs, garden birds and bats will also benefit.
You can track the progress of Derek and the other cuckoos on the BTO cuckoo website. It's a fascinating project and one I hope will yield much-needed answers as to why these birds are declining so dramatically. If you can help, the BTO is also looking for sponsors to help cover the cost of the satellite tags – and one is yet to be named. For a list of caterpillar foodplants, visit mothscount.org
This article was written by Kate Bradbury for the Guardian UK.