The Lulworth skipper is the only British butterfly with a geographically accurate name – it is found flying around Lulworth cove in Dorset and along a small section of the south coast. It is one of our rarest butterflies, and my 1980s field guide says it emerges in July. Last year it was first seen on 1 July. This year, however, an adult was spotted flying on 21 May.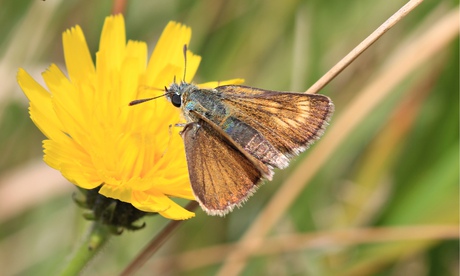 Six weeks early is a drastic change, but flying in May is the new normal for the Lulworth skipper: apart from 2013, it has emerged in May in each of the last eight years – apart from two summers when it appeared in April.
Climate change has turned a mid-summer butterfly into a spring one. Nature lovers are concerned that some species may fall out of step with crucial food plants or nectar, but Richard Fox of Butterfly Conservation says no butterflies are causing concern so far. He believes that natural selection pressures help butterflies adapt quickly enough.
But earlier risers may create problems for themselves if they try to squeeze extra generations into a summer. The orange tip is a quintessential spring creature, but last year a few children of its spring generation were seen flying in August and September. "There won't be the right climatic conditions or food plants for these butterflies to leave any offspring themselves," says Fox.
Other butterflies which have started producing an extra autumn generation include the white admiral and the very rare Duke of Burgundy. Hopefully no others will acquire this habit because it looks like a generational dead-end.
This article was written by Patrick Barkham for The Guardian.