Lynx could soon be reintroduced to the north of England and southern Scotland as the charity campaigning for the return of the wild mammal, which was last seen across Britain around 700AD, launches its final stage of a consultation.
The project to introduce 10 Eurasian lynxes back into the wild, which has also considered sites in Aberdeenshire, will this week begin discussions with farmers and tourist operators around Kielder Forest in Northumberland.
Paul O'Donoghue, chief scientific adviser of the Lynx UK Trust, described the cross-border site and the largest forested area in Britain as ideal because of its low human population density, limited road networks and large deer populations.
Following this local consultation, which is expected to last two to three months, the trust will submit its licence application to Natural England and Scottish Natural Heritage in the autumn, and expects a "speedy and positive" response.
It will source lynx for the trial while the application is being considered, and O'Donoghue said the animals could be reintroduced "as soon as practicably possible".
The Eurasian lynx, which were hunted for their highly prized pelts, have been successfully reintroduced in northern Germany, where 14 of the cats introduced in 2000 have grown to a population of up to 100.
Their preferred diet of roe deer makes them popular with the rewilding movement, which argues for the reintroduction of apex predators in order to control herbivore populations, promote forest growth and reinvigorate ecosystems.
Campaigners argue that a healthy lynx population would restore the ecosystem's balance and would be a driver of biodiversity, resulting in a cascade effect of more trees, birds and mammals. However, concerns about their hunting behaviour have attracted strong opposition from farming unions, which fear for livestock.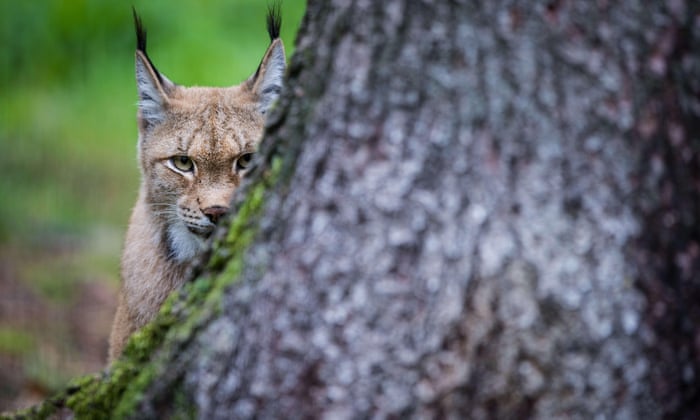 This year the National Sheep Association rejected an invitation to join the trust's project advisory group, saying it refused to participate in any plan to "introduce the high-level predator into the countryside".
But O'Donoghue points out that on average across Europe, lynx kill 0.4 sheep per predator per year, compared with the millions of sheep that die each year through disease and other issues. "We strongly believe that lynx will lead to a decrease in sheep predation because they predate on foxes but seldom on sheep themselves." He added that a comprehensive compensation package would be in place for farmers should the trial go ahead.
According to O'Donoghue, the plan enjoys widespread public support, including from those living in rural areas. "It's exciting that we have strong rural support. The lynx offers an unparalleled opportunity for rural economic regeneration. Young people are leaving rural areas to find work, but lynx can provide the kind of jobs they are looking for, in eco-tourism for example."
"We killed every single last lynx 1,300 years ago and hunted them purely for their pelts. We have a moral and ethical duty to bring them back. They are as much a part of the natural environment as ospreys and red squirrels."
This article was first published by The Guardian on 24 Jul 2016.