Migaloo, the famous white humpback whale, has been spotted off the NSW coast in a mass annual migration that reportedly includes a juvenile whale that shares his white hue. The whale, whose name derives from an Aboriginal word for "white fella", has been sighted near Yamba in NSW and has now passed the Gold Coast and Hervey Bay in his voyage north to the warmer waters of tropical Queensland.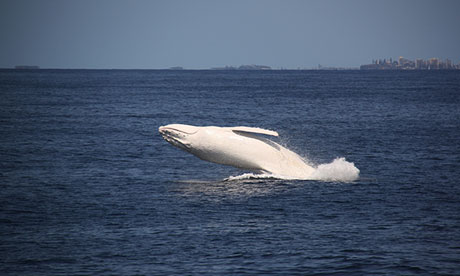 Another white whale, believed to be a juvenile, was seen in a separate pod of humpbacks near Wollongong. Scientists are attempting to determine whether the two are related.
It was previously thought that Migaloo was the only white humpback whale in the world, before pictures emerged of a younger white whale near the Whitsundays in 2011.
Humpback whales spend the summer months feeding in the Antarctic before migrating north to warmer waters around the Coral Sea to breed and raise their young. Their journey takes them along both the west and east coasts of Australia.
Migaloo, who is thought to be about 14 metres long, was first observed in 1991 near Byron Bay. DNA samples collected from Migaloo's skin by researchers from Southern Cross University in 2004 confirmed that he is a male.
Scientists have downplayed reports that Migaloo is albino, pointing to the fact that he does not have pink eyes.
Ronny Ling, president of the Organisation for the Rescue and Research of Cetaceans in Australia, said: "It's more likely that he's extremely piebald. Whales are naturally black and white, he's just a bit more white than other whales."
"Humpbacks aren't the most paternal animals. He won't be looking after the younger one. He'll be chasing girls. His purpose is to sow his seed at the moment."
Humpback whale numbers have successfully rebounded since the hunting of the species off the east coast of Australia was banned 40 years ago. The population dipped to as low as 100 before recovering to the present day total of about 17,000.
"Migaloo has become a celebrity and people feel a great connection to him," said Matthew Collis, marine campaigns manager at the International Fund for Animal Welfare.
"It's encouraging to see healthy numbers return to our coastline. It shows that the decision to ban whaling has proved beneficial."
According to Collis, increasing development, noise and shipping along the Queensland coast is a potential threat to Migaloo and his aquatic cohorts. In 2003, Migaloo was struck by a trimaran near Townsville, an injury from which he still bears the scars.
The Queensland government has special legislation to prevent Migaloo being harassed or further injured. While boats are generally required to take care if whales are within 300 metres, a special 500 metre exclusion zone is enforced around Migaloo.
This article was written by Oliver Milman for the Guardian UK.