Conservationists say grouse meat on sale in Marks and Spencer stores could come from estates where birds of prey are illegally shot in order to maximise the food supply. There are also concerns over the risks to human health from meat shot with lead ammunition. Two M&S stores in London began stocking red grouse on 13 August.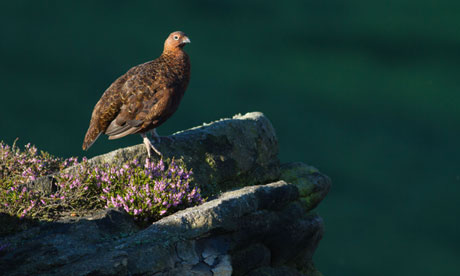 Environmentalist and former conservation director at the RSPB, Mark Avery, has called for a boycott of the company until it demonstrates its supply chain is ethical and secure.
"I certainly won't be shopping at M&S until they change their mind on this," said Avery. "Most people don't realise the scale of illegal persecution going on in our hills. This is a very intensive industry; densities of grouse are incredibly high. Birds are shot with a toxic metal [lead], which the people engaged in the sport think is fine and don't appear to accept any worries about health as a result of it."
The RSPB said there was strong evidence that some gamekeepers routinely kill birds of prey to protect the grouse population from natural predators. An RSPB spokesman said "rogue" operators had been implicated in the loss of the hen harrier from its English breeding grounds this year.
"70% of those people that are convicted of birds of prey crime are gamekeepers. This all leads one to believe that there is a systematic approach to the removal of birds of prey," he said.
The society has written to M&S asking them to demonstrate exactly which properties their meat came from.
Madge said: "We are very concerned, specifically about some estates, where the intensity of management seems to be going up and up and up in order to realise the maximum amount of grouse. We are concerned that Marks and Spencer, as an impeccable brand, has lent its name to practices that potentially are very suspect."
In a statement to the Guardian, M&S said its grouse came from a single supplier, Yorkshire Game, who source game from estates in Northern England and Scotland.
The company said: "We work with our supplier to ensure that they source from estates which protect and enhance natural habitats for a bio-diverse landscape."
But the RSPB said M&S's failure to identify particular estates made it impossible to be sure that the grouse was sustainably sourced.
In 2012 the Food Standards Agency warned that over-consumption of lead shot meat could be dangerous. Norway, Denmark, Sweden and the Netherlands have banned lead ammunition.
This article was written by Karl Mathiesen for the Guardian UK.