More than 1 million native Australian birds are killed across the country by cats every day, new research shows.
The study, published in the journal Biological Conversation, estimates feral cats kill 316 million birds a year, while pet cats kill 61 million birds annually. More than 99% are native.
"Everyone knows that cats kill birds, but this study shows that, at a national level, the amount of predation is staggering, and is likely to be driving the ongoing decline of many species," said the lead researcher, Prof John Woinarski of Charles Darwin University.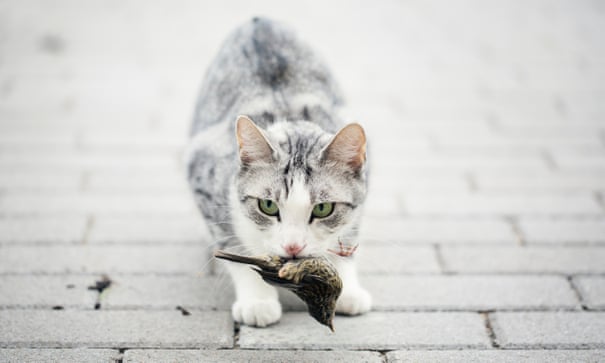 Assoc Prof Sarah Legge of the Australian National University said the researchers had combined data from previous studies.
It was the first study to look at the nationwide impact cats were having on Australia's birds, Legge said. "We also looked at the traits that were more likely to make a bird susceptible to cats."
Small- to medium-sized birds, birds that nest and hunt on the ground, and those found on remote islands or arid areas are most at risk.
The scientists estimate there are about 11 billion native birds across the country, suggesting that cats kill about 4% of the population annually.
"We found records of cats killing 338 species of native birds, of which 71 were threatened species," Legge said. "That's about 60% of the threatened species in Australia."
The acting threatened species commissioner, Sebastian Lang, said the government had already sunk more than $30m into projects to reduce the feral threat.
"Responsible pet owners can help reduce the impact of domestic cats by desexing them and keeping them indoors or in a cat run," Lang said. "These are great ways to protect our wildlife that can also improve the wellbeing of domestic cats."
Damage done by cats
377 million birds killed annually
99% of birds killed are native birds – 373 million
316 million birds killed by feral cats annually
61 million birds killed annually by domestic cats
338 species of native birds killed, including 71 threatened species
This article was first published by The Guardian on 04 Oct 2017.
---
We invite you to share your opinion whether outdoor cats should be prevented from killing birds? Please vote and leave your comments at the bottom of this page.
Loading ...
Thank you for voting.
---
Editorial Comment: The purpose of this poll is to highlight important wildlife conservation issues and to encourage discussion on ways to stop wildlife crime. By leaving a comment and sharing this post you can help to raise awareness. Thank you for your support.