A dramatic rescue operation on the New South Wales north coast ended successfully on Tuesday night when a male juvenile humpback whale was cut free of nylon ropes, a buoy and fishing nets.
The distressed 10-metre whale had been spotted at first light 100m off Main Beach at Byron Bay and hundreds of people soon gathered.
Rangers from National Parks and Wildlife shadowed the whale in a boat while the specialist disentanglement team from the Department of Primary Industry and Fisheries rushed from Queensland.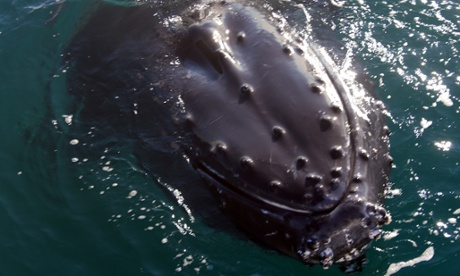 "We attached buoys to it just to slow it down," said ranger Sean Court. "It took off a few times. We just stayed with with it. We didn't want to harass it and make it all flighty. Thankfully a couple of times it slowed down and had a rest and while it was resting we cut the ropes off.
"Dealing with whales is a pretty tricky thing. They don't just sit still and let you come and cut things off them."
It took about 45 minutes to cut off all the roping.
Lawrence Orel, spokesman for National Parks and Wildlife, said freeing whales from fishing gear and detritus found in the oceans was "complex. A 40-tonne animal that is agitated and distressed is very dangerous."
But on Tuesday there were perfect conditions for a rescue: very little wind and no swell.
Court said that once the whale was free, "it stopped and looked at us and did this thing called spy hopping. We were having a chat about how the day went and it was just sticking its head out of the water and bobbing up and down and looking at what was going on.
"It was interesting behaviour that was for sure. Just to stay with the boats for 15 or 20 minutes once we had taken all the gear off."
Court said that by the time it headed back out to the ocean the rescue team was sure it was healthy.
"All its signs were good," he said.
This article was written by Susan Chenery for The Guardian.