From the roof of Chiu monastery, perched high on its rocky hill, the water of Lake Manasarovar was cobalt, the surrounding hills rich ochre, luminous in the sunlight of a late autumn afternoon.
With a shoreline 55 miles (90km) long, and at an altitude of more than 4,500 metres (15,000ft), this is one of the highest and largest bodies of freshwater in the world.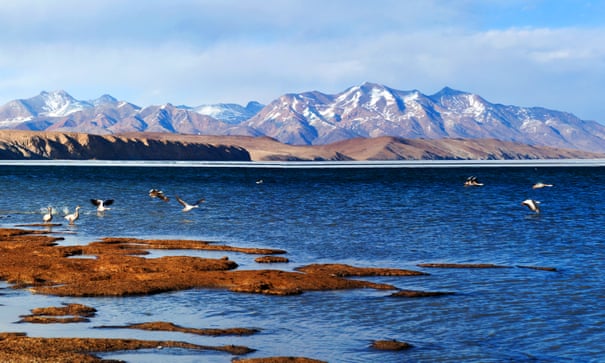 Its name translates from the Sanskrit as "mind's lake"; the mind in question being that of the Hindu creator Brahma, and in the thin air there is something ethereal about it, something unworldly.
It is a sacred site of pilgrimage for a quarter of the world, not just Hindus but Buddhists too, as well as the lesser known Tibetan religion of Bon and India's Jains.
So much for metaphysics. Walking down towards the shore, I could see hundreds of birds balanced nervously on the skim of ice forming on the fringes of the lake, including a large flock of bar-headed geese, Anser indicus.
One stuck a yellow leg straight through and the bird flopped forward in a flurry of wings, its black-tipped bill ricocheting off the surface. These big-hearted geese seemed endearingly human, stepping out so bravely, but they are the true champions of high-altitude flying.
George Lowe, climbing in support of Sir Edmund Hillary on the first ascent of Everest, claimed to have seen some flying over the summit (8,848 metres) in 1953. Science has not so far recorded them above 7,000 metres, still colossally high, and they get there with subtle genetic changes that boost their circulation.
In Britain, the striking black bars on their white heads made these geese popular with fanciers, and escapees have bred in the wild, often mingling with flocks of greylag. Even so, with no legal protection, they are at the mercy of the shooting fraternity and consequently numbers remain low.
Better to think of them here, on the roof of the world, readying for their lofty migration over the high Himalayas to wintering grounds in south Asia, where, as Kipling noted: "The wildest dreams of Kew are the facts of Khatmandhu."
This article was first published by The Guardian on 18 Nov 2016.