Welsh populations of golden plover have declined by 80% in 30 years yet the British Association for Shooting and Conservation has them in its sights.
Tide ebbs from Traeth Bach. The estuary gathers light, resolves into a pattern of interlocking curves, gleaming channels, draining sand.
I walked this place daily years ago, far out by shifting submarine sandbars. In winter it teemed with huge flocks, thousands-strong, of wigeon, teal, pintail. Scurrying sanderling animated the tideline.
Wheeling clouds of curlews descanted above; there were golden plovers in their winter retreat; great crested grebes, great northern and red-throated divers. I came across the corpse of a red-throat once, cast aside on the saltings by Abergafren, its throat blown away by some wildfowler. That winter I'd often been within feet of this gorgeous bird. Its death felt like a bereavement.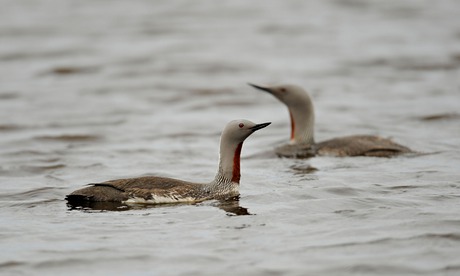 In this present twilight? A couple of shelduck, a dozen curlew, a single raven. The sense of desertion, of emptiness was overpowering. Around the time of the red-throat's killing, a local shooting club secured leases from the crown estate to this foreshore. These were later extended right round Morfa Harlech national nature reserve. (Birds, I take it, are not aware of human territorial distinctions.) Notices advertise the availability of day-shooting permits.
My subjective impression of declining bird numbers at Traeth Bach since organised shooting began is supported by statistical evidence. Mick Green of Ecology Matters notes that Welsh populations of golden plover – one of our most beautiful hill and coastal birds – have declined by more than 80% in 30 years. They are on the red list for endangered species in Wales. Yet countrywide the British Association for Shooting and Conservation in alliance with local shooting clubs is seeking further foreshore leases with these birds on their quarry-lists. There's a disturbing lack of transparency in the granting of leases. The secretary to the body that advises the crown estate is a paid officer of the BASC.
The BASC lease applications list target species – golden plover among them – that are red-list-endangered in Wales. The crown estate website insists on preservation of refuge areas to which these species may fly to escape the shooters. When shooters are active at Traeth Bach, birds fly across the sands to Aberdwyfor – where a BASC lease-application is currently under consideration. Will the crown estate deprive them of this place of safety? Surely it's time for a moratorium on all shooting of red- and amber-list species in the UK? As I muse on that at dusk by Traeth Bach a pair of little egrets – once shot to extinction in Britain, now coming back – drift past like a glimmer of purity in the gloom.
We invite you to vote whether shooting clubs in the UK should be allowed to shoot endangered birds? Even if you're not from the UK, please vote and also leave your comments at the bottom of this page.
Loading ...
This article was written by Jim Perrin for the Guardian.